I bet you've been waiting for this profile, eh? This is a guy that many Mets fans have heard about that was just dominating short season leagues in 2016, and for good reason: his stuff is just electric. Placing already at 60 on Keith Law's Top 100 prospects,  Szapucki has already turned heads  Pitching a stone's throw away from the St. Lucie Mets while in High School, Szapucki was a Mets fan growing up. He's a Toms River, New Jersey native originally and was ecstatic to take the bonus and go pro. He started out as a big-armed lefty with control issues, and with a few tweaks in his delivery, performed like a flat-out ace.
(Photo by NYSportsday.com)
R/L, 6'2″ 205 lbs, 6/12/1996 (20), Drafted 5th round, 149th overall out of William T. Dwyer HS (West Palm Beach, FL). Signed for $375,000 (355,500 slot).
| Year | Age | AgeDif | Tm | Lg | Lev | ERA | G | GS | GF | IP | H | R | ER | HR | BB | SO | WHIP |
| --- | --- | --- | --- | --- | --- | --- | --- | --- | --- | --- | --- | --- | --- | --- | --- | --- | --- |
| 2015 | 19 | -1.4 | Mets | GULF | Rk | 15.43 | 3 | 0 | 1 | 2.1 | 5 | 4 | 4 | 0 | 0 | 3 | 2.143 |
| 2016 | 20 | -1.2 | 2 Teams | 2 Lgs | Rk-A- | 1.38 | 9 | 9 | 0 | 52.0 | 26 | 12 | 8 | 2 | 20 | 86 | 0.885 |
| 2016 | 20 | -1.0 | Kingsport | APPY | Rk | 0.62 | 5 | 5 | 0 | 29.0 | 16 | 5 | 2 | 2 | 9 | 47 | 0.862 |
| 2016 | 20 | -1.4 | Brooklyn | NYPL | A- | 2.35 | 4 | 4 | 0 | 23.0 | 10 | 7 | 6 | 0 | 11 | 39 | 0.913 |
To say Szapucki is interesting is an understatement. He burst onto the scene and just flat out dominated the short season leagues like we had never seen. In his first start of the year, Szapucki set the tone striking out 13 in six innings while limiting the opposition to two hits. In five starts, he only allowed two earned runs, both by homers, while striking out 47 in 29 innings. He only got better when being jumped from Advanced Rookie League Kingsport to Short Season-A Brooklyn, and struck out players in double digits in three of his four games pitched. Unfortunately he was shut down for back stiffness after his ninth overall game, but by then he made his point: not many batters were going to stop the train in motion.
So let's breakdown Szapucki here. At the time of his draft his scouting report was sitting in 92-93 range and using a side-arm type delivery, touching 95 at times. The breaking ball he spun to most people looked like a slider, but he described it as a curve with a high spin-rate. The curveball didn't have much depth at that time, resulting in sweeping action with a bit of 11-5 action. He has a changeup had a little bit of feel, but he was heavily reliant on the fastball-curve combo while in high school, causing for his changeup to take a back seat. The delivery though caused a bit of stress on the arm causing people to worry about his durability. He admitted in interviews he had trouble with command with this type of throwing motion.
At the time, some were doubting his ability to repeat his delivery, and many others believed the fanfare of 3rd rounder Max Wotell over Szapucki (later traded for Jay Bruce, and didn't throw nearly as hard). This is a GIF of his delivery before being drafted.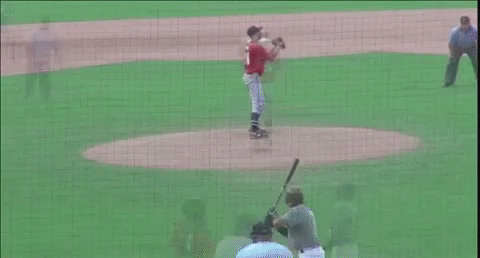 (MLB.com draft video, 2015)
However, after being invited to the Instructional League after the 2015, Szapucki got some valuable lessons from minor league pitching coordinator Ron Romanick on how to garner an optimal delivery with less stress on the arm and more velocity at the same time. He abandoned the sidearm-slinging action he had, (what would be classified as a low three quarters arm slot) and switched to a high three quarters slot.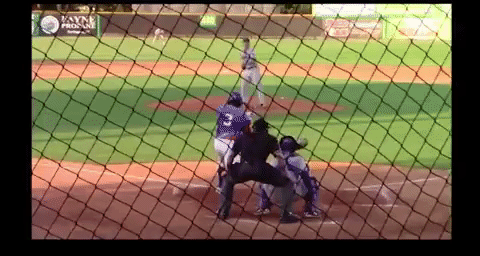 (Baseballamerica.com, Kingsport, 2016)
His velocity jumped a few ticks from the low 90's, sitting 92/93 and touching 95 with some run to going anywhere from 92-95 and touching 97. Szapucki also found a way to create some depth on the curveball, creating a 12-6 drop. His pitching coach in Kingsport, Royce Ring, also had him throw his changeup more and create more feel for it as he went along, creating a better three-pitch mix. When he reached Brooklyn, the pitching coach Bill Bryk taught him more consistency in his mechanics while in his windup when stepping further back and gaining more force and consistency.
While I've said before (in the Marcos Molina profile) how there's really no healthy pitching motion, his delivery raises a few more red flags about durability in the long run than usual. A lot of his motion relies on a quick arm without much movement below the belt, and a short stride. I have a feeling, as time goes on this may change as he's still learning to pitch with better control, but it may help him to stay healthy in the long run. Other durability concerns include him being shut down on August 12th for back stiffness and pitching only 52 innings during this breakout year.
Nevertheless, this is still a very high ceiling left handed pitcher, with frontline potential either as an ace or a #2 pitcher if the breaking ball and changeup don't take the next step. There is also the likelihood that he adds a pitch (which is likely a slider with how the Mets staff works), and raising the threshold higher on his ceiling.
Szapucki should be heading to St. Lucie for 2017. Keep this guy on mind for pitching prospects from now on, he may be the next big pitcher the Mets development team produces, and we'll be watching him as he ascends the ranks in the next few seasons.
To see more for St. Lucie Profiles, please go to Prospect Profiles and St. Lucie Mets in the top or side bars. We have also added a bar to separate the prospects by position.
Follow us on Twitter at @MetsTProspects and like our Facebook Page!